Welcome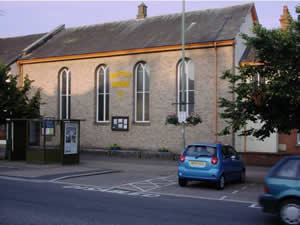 We are local people from all walks of life who love Jesus and have found a real joy and purpose in life.

As with all Christians, Sunday is special. We meet at 10.30am for a time of family worship lasting about an hour. In the early part, we are all together.

The children join their groups for teaching, leaving the adults to continue worship and to listen to a talk.

Our services are fairly informal and we enjoy being together as a Christian family to share a relevant message of faith and joy.

We are not only Christians on Sunday but we encourage each other to live out our faith through the week, whether this is at work, in the home or enjoying leisure activities with others.

The church seeks to serve the community and we are pleased that a number of organisations in the town meet in our church premises.


Minister: Rev. Glen Graham 01884 34077

Coming Events


Sunday 1 Mar 2020 10:30 am
Sunday Worship
Rev. Glen Graham
Sunday 8 Mar 2020 10:30 am
Sunday Worship
Rev. Glen Graham
Sunday 15 Mar 2020 10:30 am
Communion Service
Rev. Glen Graham
Saturday 21 Mar 2020 9:30 am
Prayer Meeting
Sunday 22 Mar 2020 10:30 am
Sunday Worship
Rev. Glen Graham
Tuesday 24 Mar 2020 7:30 pm
Church AGM
Saturday 28 Mar 2020 10:00 am
Street and school pastors
First aid training
Venue: Schoolroom
Sunday 29 Mar 2020 10:30 am
Sunday Worship
Rev. Glen Graham