__________________________________________________
Good Friday Reflections - 1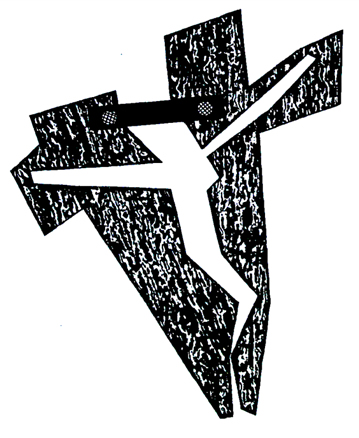 'He opened wide his arms' - the welcome of God

Hymn
My song is love unknown,
My Saviour's love to me;
Love to the loveless shown,
That they might lovely be.
O who am I, That for my sake
My Lord should take Frail flesh, and die?

Reading
Now my soul is troubled. And what should I say - "Father, save me from this hour"? No, it is for this reason that I have come to this hour. Father, glorify your name.' Then a voice came from heaven, 'I have glorified it, and I will glorify it again.' The crowd standing there heard it and said that it was thunder. Others said, 'An angel has spoken to him.' Jesus answered,
'This voice has come for your sake, not for mine. Now is the judgement of this world; now the ruler of this world will be driven out. And I, when I am lifted up from the earth, will draw all people to myself.' He said this to indicate the kind of death he was to die. Jn 12.27-33

Reflection
Over the years the words we use in public worship have been revised. One of the newer sentences in the communion service has proved more popular than most. Perhaps it is yours too? It is the line, 'He opened wide his arms on the cross.'

When someone opens their arms to you – what do you see? What is being expressed? What are you about to receive? And how do you respond? - joy, love, delight, welcome - with open arms in return.

To be unable, or forbidden, to freely offer this in any time or place runs counter to our deepest instincts and feelings. But such is our context this Easter.

In this vigil at the foot of the cross we begin by imagining Jesus on the cross. His arms are opened wide towards us and our world.
Here is love that refuses to keep distance from us.

To imagine love in this place of such dreadful suffering is not easy. The focus is more often
placed on judgement, guilt, punishment, debt and sacrifice. And they are all part of this story. But that focus too easily makes the cross a kind of extreme, divine problem solving – one which requires unspeakable suffering and death to deal with our sin.

Well the cross is a place of painful truths but that is not where the story starts. What is original to this world is not our sin or evil. It is divine love. When we begin with the negatives, focused on the problem, we never get out of the cycles of judgment and condemnation. No repentance is ever enough. No effort with make us acceptable.

It is true that human sin has made God's embrace of us a work of tragic redemption … but it is love that holds him there. Love is reaching out to us at whatever cost. There is no distancing.

Jesus did not come to change the mind of God about humanity – "now you can love them after all". Jesus came to change our mind about God.

God does not love us because we are good; God loves us because God is good. This is welcome beyond any language of deserving - good or bad ….

The cross tells us that nothing we humans can do will ever decrease or increase God's eternal eagerness to love us. Divine love is made visible here - forever.

So let us draw near to this love.
There is somewhere is this separated world where we have no need to keep our distance.
There is offered here an embrace unlike anything we have ever known. It is beyond all imagining or any notions of deserving.

He opened wide his arms on the cross.

Where do you connect with these thoughts?
You might pause and keep silence for a few moments.

Prayer
O God, revealed upon the cross through the open arms of your Son. Your love is endless, Your reach is boundless, Your embrace knows no separation, In wonder and gratitude
we turn to you and open our arms to receive your love.